MatheArena: Never again problems with maths
They feel too stupid for maths. Or they are too afraid to ask questions in class because someone might make fun of them. Gerald Infanger hears these reasons again and again when he gives young people extra tuition. Yet many of his students would be up to the task. With his app MatheArena, the mathematician and theologian and his wife Eva-Maria Infanger (also a mathematician and theologian) have succeeded in focusing on understanding.
Without pressure, but with relaxed language
"I really enjoy convincing them otherwise," says Gerald. After all, maths weakness is usually based on low self-confidence. A problem that is unfortunately all too often anchored in society: according to his observations, this also tends to affect more girls than boys. With the MatheArena, learners have the opportunity to realise in the mini-games and tasks that they are better than they thought. "We wanted an app that is completely free of pressure. So that social anxiety in mathematics is also reduced and motivation increases."
The first version was created in 2015 after the couple wanted to cast their initial ideas into an app. A friend helped with the programming, and in the meantime they rely on a team of developers and cooperation with research institutes for regular further software developments. An important point was – despite all the gamification – to maintain the serious character of mathematics. This is made easier for the learners than in classical mathematics lessons by using a language that is close to the students.
The spiral principle: First light, then heavy
The app, which has already been downloaded 45,000 times (as of 13.6.22), currently contains 1,500 questions from 20 topics for the upper school. These are in turn divided into chapters such as statistics, differential calculus or functions – quite unbureaucratically and without being "pigeonholed" into school levels, as Gerald explains. Rather, the "spiral principle" used is about building a foundation of knowledge. An algorithm analyses the learning process and asks exercises that build on the basic knowledge or even a few easier questions. Learners can also request feedback directly in the app if they have not understood a task.
The founding team is now also reacting to the structure of the schools and the central school-leaving exam: a version for school-level-specific exercises is currently being developed. Nevertheless – the spiral principle is to continue. In any case, the current app already covers all relevant topics for Matura preparation. Questions are asked in multiple choice format – a decision that was well considered. "Multiple or single choice questions have to be well posed, then they directly target comprehension," says Gerald.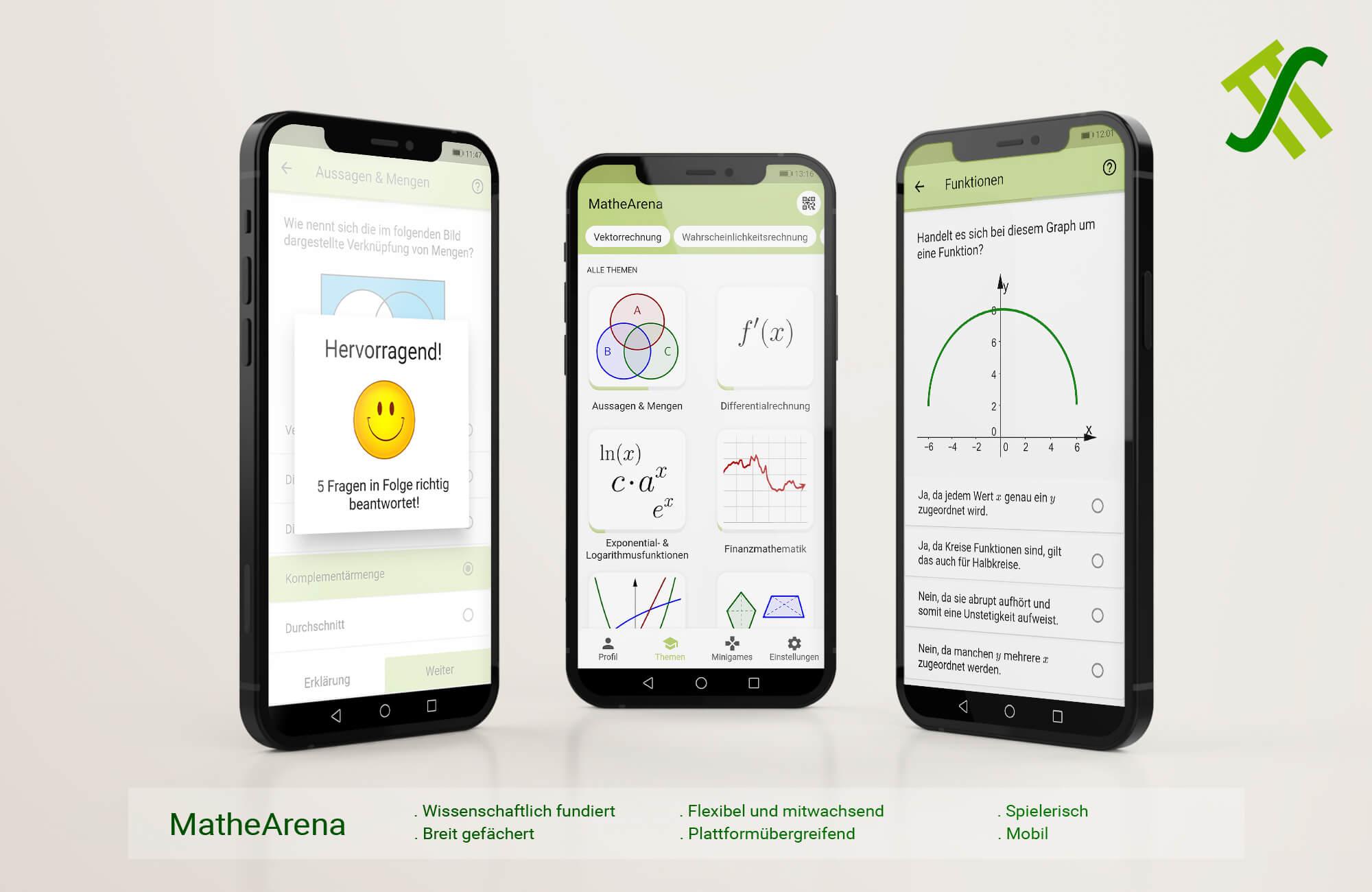 Practise independently in class
MatheArena is also popular with teachers. They use the app best in class when students have the opportunity to practise themselves. Because: "Even if 30 people learn with it at the same time, they always get different questions because the algorithm adapts. This means that it is not possible to copy from the person sitting next to you. The mini-games and 300 of the exercises are free, after that the use of the entire app costs 25 euros a year or eight euros a month. "Our goal, however, is to finance ourselves in the future through the textbook campaign, when hopefully apps will soon be included. We want to be free for pupils," says the founder.
A new project that could help is cooperation with companies: Currently, MatheArena offers companies that want to counteract the shortage of technicians in their regions the opportunity to finance licences for the premium version at schools. In return, logos or other advertisements of the companies are placed in the app. "This is a sustainable way to support digitisation in schools and positive development for students," says Gerald. If you are interested, you can contact entrepreneurs at www.mathearena.com/business/.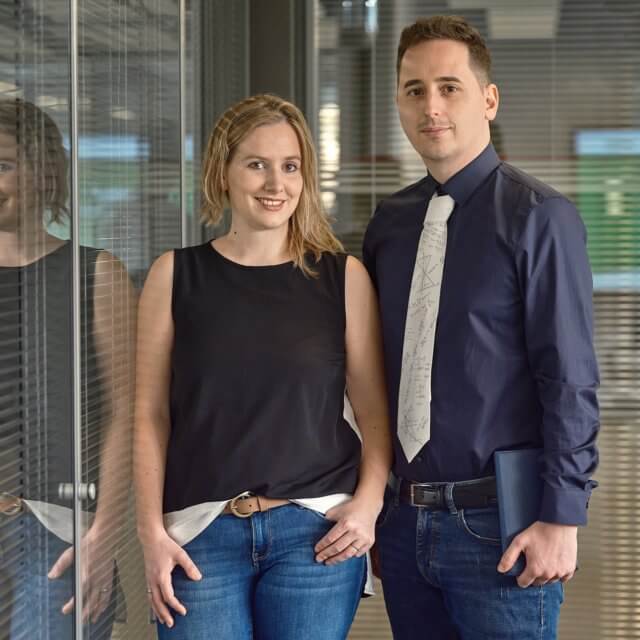 We asked Gerald
How do the users of your app achieve sustainable success in mathematics?
Learning is associated with emotions. Of course, it is not easy to learn everything with MatheArena at the beginning. But after a short while, small successes in the mini-games or exercises give you positive emotions and connect you with the material you have learned. This is then stored much better. You know this from yourself: if I don't understand something, I don't remember it five days later.
How did you experience the Covid pandemic?
That was actually a booster for us. Because before that, we expected to be able to enter the market in 2024 or 2025. Because only then did we expect general and continuous digitisation in schools. But yes, then Corona came and the schools had to switch to digital teaching faster than expected. And we put everything on the go-live of our app more quickly.
What's next for MatheArena?
We are currently pleased to have received an award directly from the Ministry of Education, Science and Research at the first awarding of the seal of approval for learning apps. Our app was described by pupils and teachers as a helpful and varied learning tool that is also fun and enhances the mobile phone as a learning medium. And of course we have several projects and plans in the pipeline. On the one hand, we will be supporting the Veritas Verlag mathematics textbooks for the lower grades from next year. In addition, we are currently expanding the minigames. And our long-term plan is to go global – for example, with an English-language version in order to go further afield.
More articles
The following articles might also interest you.