Where is the EdTech journey heading?
EdTech Austria toured Austria for a week at the end of November. Under the motto "Where is the EdTech journey going?" we stopped in three cities and linked the EdTech scene with schools, companies and universities. Inspiring keynotes, exciting EdTech tastings and lively discussions made this roadshow a successful event.
Learning through games
"Who thinks games and learning are two separate things?" No one raises their hand at the question posed by Joerg Hofstätter, CEO of ovos, and it is clear to us: gamification can achieve a lot. Hofstätter's talk also shows this with an insight into gamified learning and showing that EdTech is much more than educational technologies in schools. In fact, a majority of EdTech companies in Europe are active in the corporate learning sector. Our four areas at EdTech Austria – school, college/university, vocational education and training and lifelong learning – show us the diversity and breadth of EdTech again and again.
Change as a constant
"Thank you for inviting the dinosaurs today," said Bernd Simon from Knowledge Markets.  He has been successfully active in the EdTech sector for a long time. He has observed the following over the past decades: The only constant is change. Not only have the technologies evolved greatly, but also the didactics and methods that go along with them. Where will the journey go? "Towards more cooperation and collaboration," Bernd Simon is certain.
Enabling and individualisation
"EdTech should not be an end in itself," Markus Fischer emphasises at the beginning of his talk. In the end, educational technologies are always about enabling learning paths and learning processes that allow for individualised learning. However, according to Fischer, more evidence is needed for this. His company, chabaDoo, has built on accompanying scientific research from the very beginning. "It needs quality assurance that is much faster than it is now," the EdTech entrepreneur emphasises.
Change needs to be accompanied
When Barbara Zuliani wants to introduce iPads in her class in 2009, she is asked by a colleague: "What do you want with the board, do you want to make a healthy snack?" The colleague's side blow came to nothing. It soon became clear how much the children in her class benefited from it. Since then, film-making, programming and digital design have been on the timetable in Zuliani's classes. She financed the 1:1 equipment with digital devices, which cost 25,000 euros at the time, through crowdfunding.  What is often overlooked: The amount of work that goes into preparing lessons. At that time, there was hardly any training on digital teaching, but now there is more, and "teachers are tired", Zuliani emphasises. Low-threshold offers like online training could make a difference here. Markus Fischer and Barbara Zuliani agree that it is not enough to just offer in-service training, change needs to be accompanied. Teachers cannot be left alone with this.
Making learning tangible
Augmented Reality (AR), Virtual Reality (VR), Mixed Reality (MR) – these were the major topics presented at our tour stop in Salzburg. Thomas Layer-Wagner, CEO of Polycular and Markus Tatzgern, Professor for Mixed Reality and Game Development at the FH Salzburg, reported on current AR and VR projects in Salzburg.
In his projects, Thomas Layer-Wagner focuses on immersive learning, which means imparting knowledge through experience and immersion in virtual worlds. Layer-Wagner and his team use AR and VR to transform rooms into interactive escape rooms in order to make learning an experience.  The learning success can be increased through the playful approach (game-based and experienced learning). Taking risks and possibly making mistakes are an essential part of the learning experience.
AR and VR in schools
Together with the University of Salzburg and the Salzburg University of Education, Markus Tatzgern is researching the use of virtual and augmented reality in school lessons in the "EdTech Salzburg Augmented Learning Lab". To this end, the research team is adding digital content to a four-by-four-metre physical map of Salzburg, which is used in Salzburg's schools for science lessons. AR is used to visualise the journey of milk from the farmer to the shop: Where does the milk come from? How are cows kept in Salzburg? And how does the milk get to the shelf in the supermarket? The project helps pupils to understand complex issues more easily with the help of practical examples.
"Virtual and augmented reality can each enrich lessons in different ways. VR, for example, enables virtual excursions through history, or physics experiments in a safe environment. Augmented reality, for example, enhances existing analogue teaching material with digital content. What is important for successful learning is that suitable didactic concepts are developed for the use of technologies," says Markus Tatzgern.
And because it was so nice to network with the Austrian EdTech scene, users and many other interested parties, we are planning a similar format for 2023. You don't want to miss any of our events? Then sign up for our newsletter or follow us on Linkedin.
More articles
The following articles might also interest you.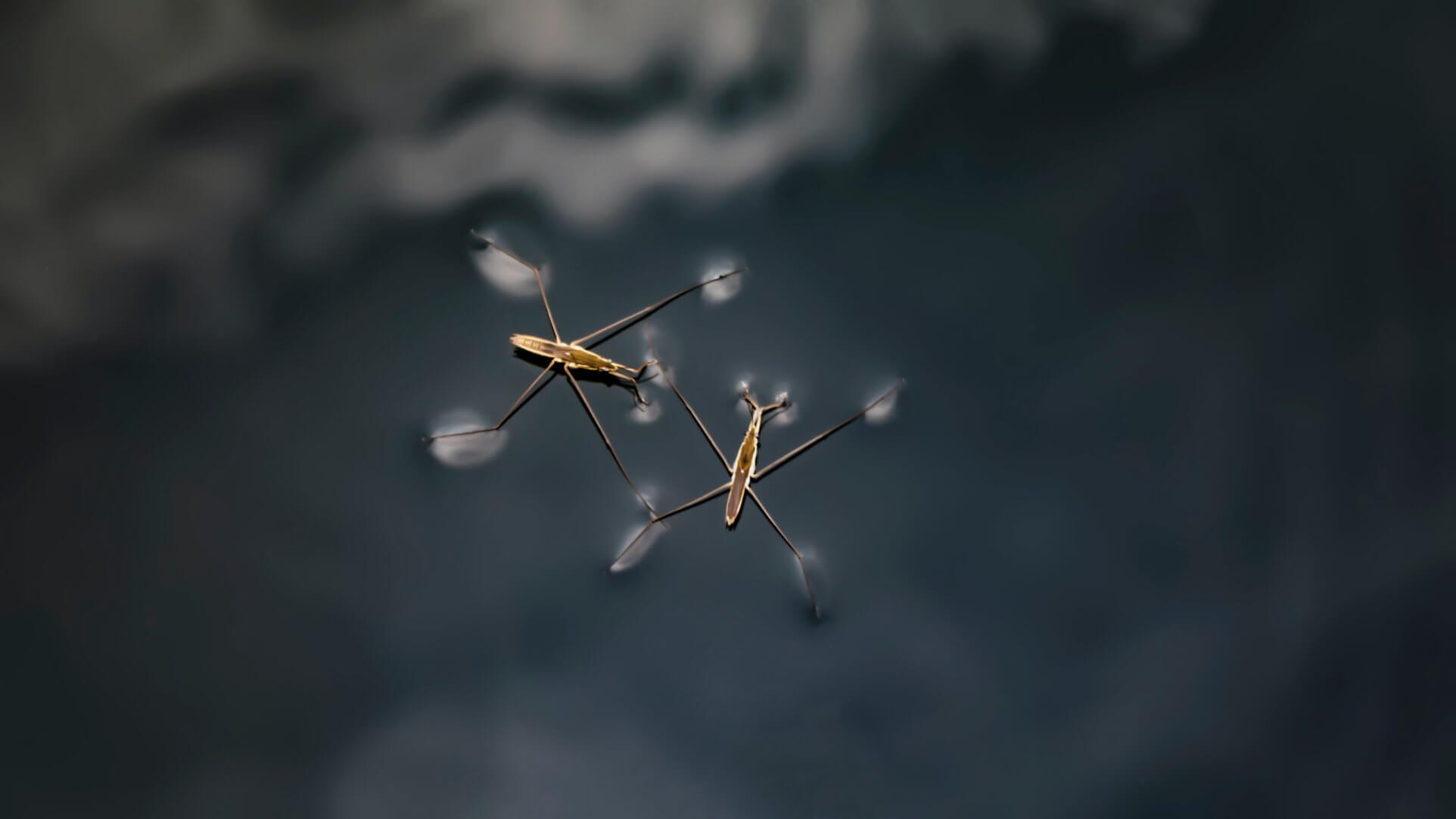 Photo: Hao Wang on Unsplash
Early Childhood Education Part 1: Chasing the water strider in a lab coat
25. September 2023
Read article