Audvice – Education for the ears
We have much more time to listen to something than to read through something. For example, when we're walking or driving from A to B. Put in the headphones, set the track on the smartphone, and that's it. Audio is therefore the future of learning. The podcasting boom and the hype around the new app Clubhouse prove that audio is a very simple and popular format.
Record, organize, listen
Sophie Bolzer, founder of the learning app Audvice, is also of this conviction. The app collects knowledge in short audio tracks that can be organized as playlists and streamed anytime, anywhere. But users can not only stream, but also produce their own audio tracks. Content can be easily recorded directly in the app and shared with others. Recording audio files is quick and easy. Parts can be re-recorded, other parts deleted and the finished track can be sorted into playlists. This can be done without any knowledge of recording or editing programs.
On the way, besides and in between
Audvice's main target group are employees of companies. With Audvice, they can record and disseminate knowledge within the company quickly, easily and professionally. Not only the personnel development department, but all employees can contribute – without training, without umpteen different tools, without having to deal with hosting, file formats or conversion. The audio focus makes this enormously suitable for everyday use. Audvice works on the go, on the side, in between, and on almost any smartphone.
For example, the sales team can record memos after customer appointments and listen to them at the next appointment beforehand. The app is also suitable for onboarding new employees.
Audvice for Students
Originally, the app was intended for students. They could record short tracks about learning content, listen to them again at any time and share them with fellow students. The market proved to be too small, so Sophie Bolzer and her team turned to the B2B market. However, the app is still available to students free of charge.
Audvice for Teams
Currently, they are working hard on the launch of a self-service version Audvice for Teams. "We as a small but growing team use Audvice almost daily. Whenever we think of something that everyone else needs to know, we record a short track and share it with the team. The playlist also gives us structure and order here. It also makes onboarding easier," says Sophie Bolzer. The new app is designed to enable SMEs and startups to build sustainable knowledge management structures that grow with the company, despite low budgets and resources.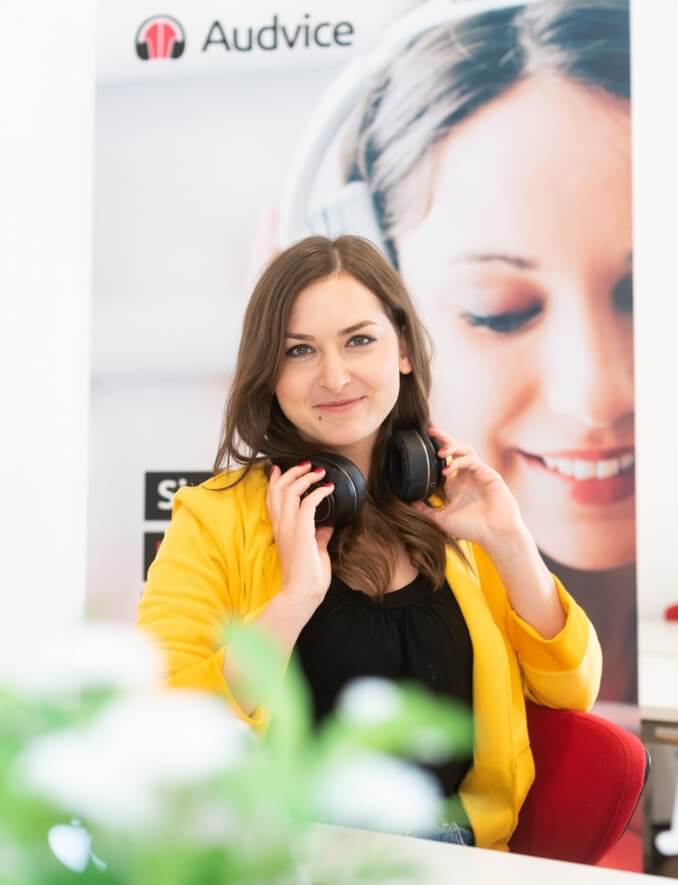 We asked Sophie Bolzer
Sophie, some time ago you decided to concentrate on the B2B market. Was that the right decision?
Definitely. We were very much in limbo about whether or not to give up the B2C market. But it makes sense to decide on something once. It made life easier for us, because we were also very torn in our positioning between end-user and corporate customers. Now we have a clear positioning and communication and only one target group – which is the companies. This makes us much more efficient. Thanks to our international pilot projects with two Fortune 500 companies, we were also able to test the market extensively. The start was successful and both are already using Audvice in some countries. And we have succeeded in winning more B2B customers.
You are participating as one of the Austrian startups in the UK-Austria EdTech Exchange on 12.3.2021. What are your expectations for the meeting?
The expectations are high. We hope to make a lot of contacts. It is good that EdTech Austria and Austrian startups are participating. We are sending a signal that Austria is investing in this topic and now also have a central contact point with EdTech Austria. We show that Austria has good and also internationally scalable EdTechs. We hope for a good exchange. We would like to take the chance and also fundraise internationally and raise money from the UK or other European countries. Therefore, the UK-Austria EdTech Exchange is a great opportunity for us.
And what are your expectations for EdTech Austria?
The EdTech topic is very broad. It doesn't stop at school, but extends into every area where learning takes place, including HR tech, for example. It's difficult to find a common denominator for what EdTech exactly means and to form an EdTech network. With EdTech Austria, this can be achieved. There is a central point of contact that is superordinate. This makes it easier to network with other players or future customers. If you try to bring technology into schools or universities as a single company, it's difficult. If you approach it as a network, it's easier to succeed. This is also shown by the example of London and other cities where such networks already exist. Universities and government institutions are more open to EdTech. That gives the entire industry a boost.
More articles
The following articles might also interest you.