Cody21 makes primary school kids media-savvy
Digital basic education at primary schools? "An absolute must," say Anna Relle and Elisabeth Weißenböck. With a lot of passion for the cause and their new streaming platform "Cody21", they support teachers in their teaching to train children early enough in media competence and the basics of computer science.
Teaching with reinforcement
It was clear from the beginning that they ideally complement each other in their mission: Elisabeth, the computer science and didactics expert who has previously worked as a programming teacher, and Anna, the businesswoman with years of experience in business management. The result of this symbiosis is the EdTech company Acodemy, which on the one hand has a teaching platform for primary schools called "Cody21" and on the other hand offers computer science camps during the summer holidays. The current focus is on Cody21, which has been successfully running on the screens or whiteboards of Austrian schools since 2021.
One reason for this is certainly the simple handling: "We wanted to make teaching digital topics as easy as possible with a streaming platform for digital education," says Anna. This is a real support for the educators, who can hand out worksheets with tasks or assignments to go with the selected episodes. Two presenters and the animated robot family Cody lead through the lessons on topics in media literacy and computer science.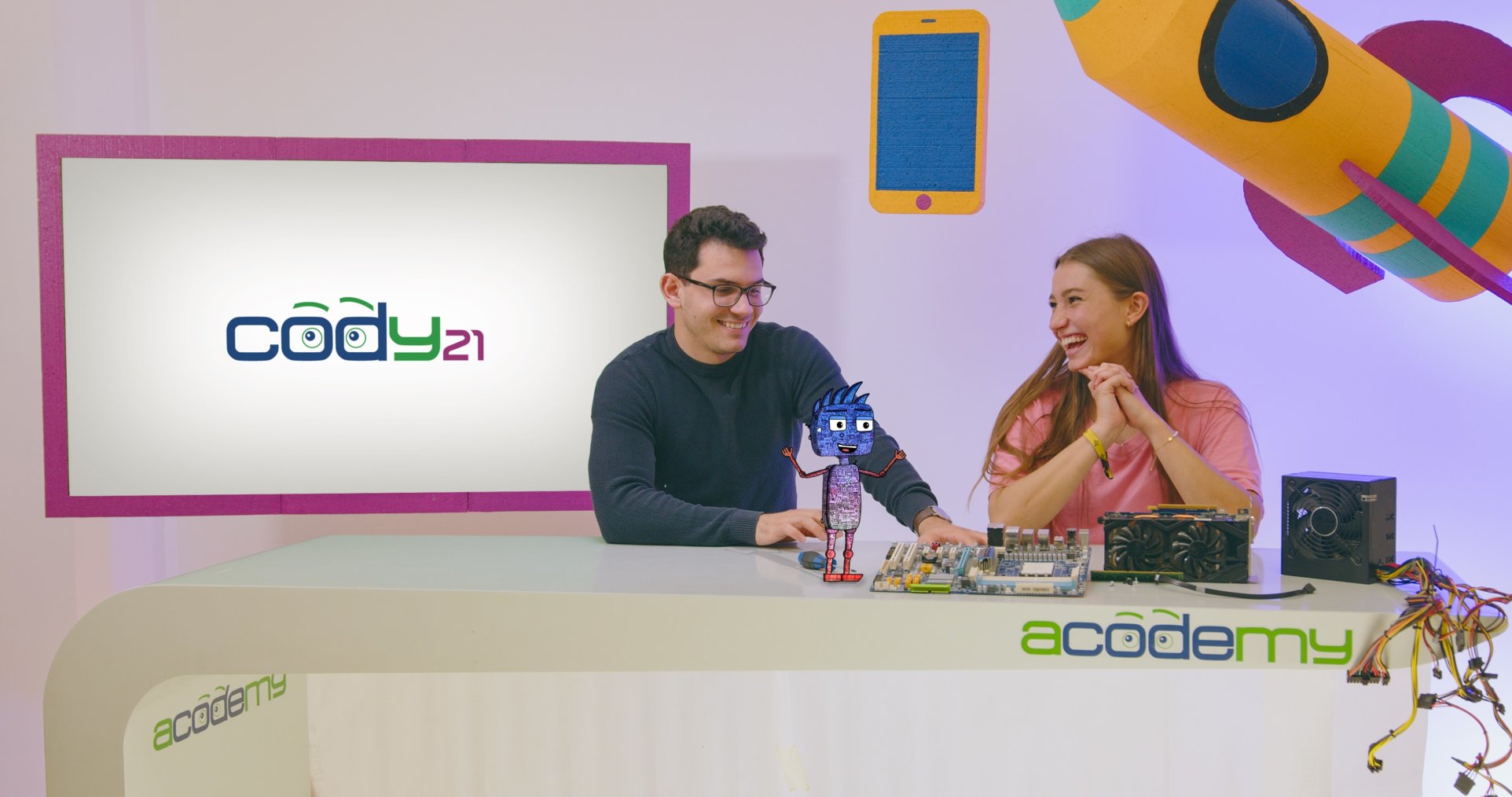 Media competence on the World Wide Web
The potpourri of digital know-how is wide-ranging and includes not only practical computer knowledge, but also lessons on media ethics, such as "What am I allowed to do on the internet?" or "How do I recognise fake news?". In this way, children are taught media skills at an early age and trained in responsible user behaviour. In an episode on "Fake News", for example, the presenter Isabella explains to her colleague Alex how advertising on social media works. That the protein powder he wants to buy will not help him gain muscles by itself. Because: the influencer promoting this product probably has a paid partnership with the manufacturer and that is why he is so enthusiastic. "The point is to encourage children to question critically," says Elisabeth.
"If there are schools – no matter where in Austria – that would like to work with Cody21 now, please let them contact us and we will see that we can offer them the programme free of charge through our sponsors."
Anna, cody21
Successful with sponsors
The founders also took a close look at themselves – namely at their sales strategy: Since the budget of public primary schools is very limited, they first wanted to win the Ministry of Education for their cause. But although political support quickly materialised, the decision on funding for primary schools was not the responsibility of the federal government. "Our dilemma was then also that only public schools could afford the costs for Cody21, but we are committed to equal opportunities in education," says Anna. In the end, the decisive solution was to rely on other stakeholders: "We always talk about the shortage of skilled workers. This means that companies should be interested in training future employees. No sooner said than done, the two entrepreneurs set their sights on companies that want to do good and are committed to this mission. A1, Raiffeisen Bank Oberösterreich, OMV and Grazer have already pledged their support. A1 provides the approx. 600 euros in annual costs per school throughout Vienna and Raiffeisen Bank finances all the after-school centres in Linz. This is a major milestone for Acodemy.
While the feedback from the teachers is positive throughout, there is nevertheless also a drop of bitterness: "We see that some schools are quite strongly opposed to digital education. Even when there are free offers like Cody21. The status does not yet seem to be as high as we would all like," says Anna. A problem that she admittedly could not eliminate by making a few phone calls. And yet the two continue to rely on commitment and calls. "If there are schools – no matter where in Austria – that would like to work with Cody21 now, they should please contact us and we'll see that we can offer them the programme free of charge through our sponsors." For Anna and Elisabeth, only one thing counts – their commitment to the common cause and the big picture that finally brought them together six years ago.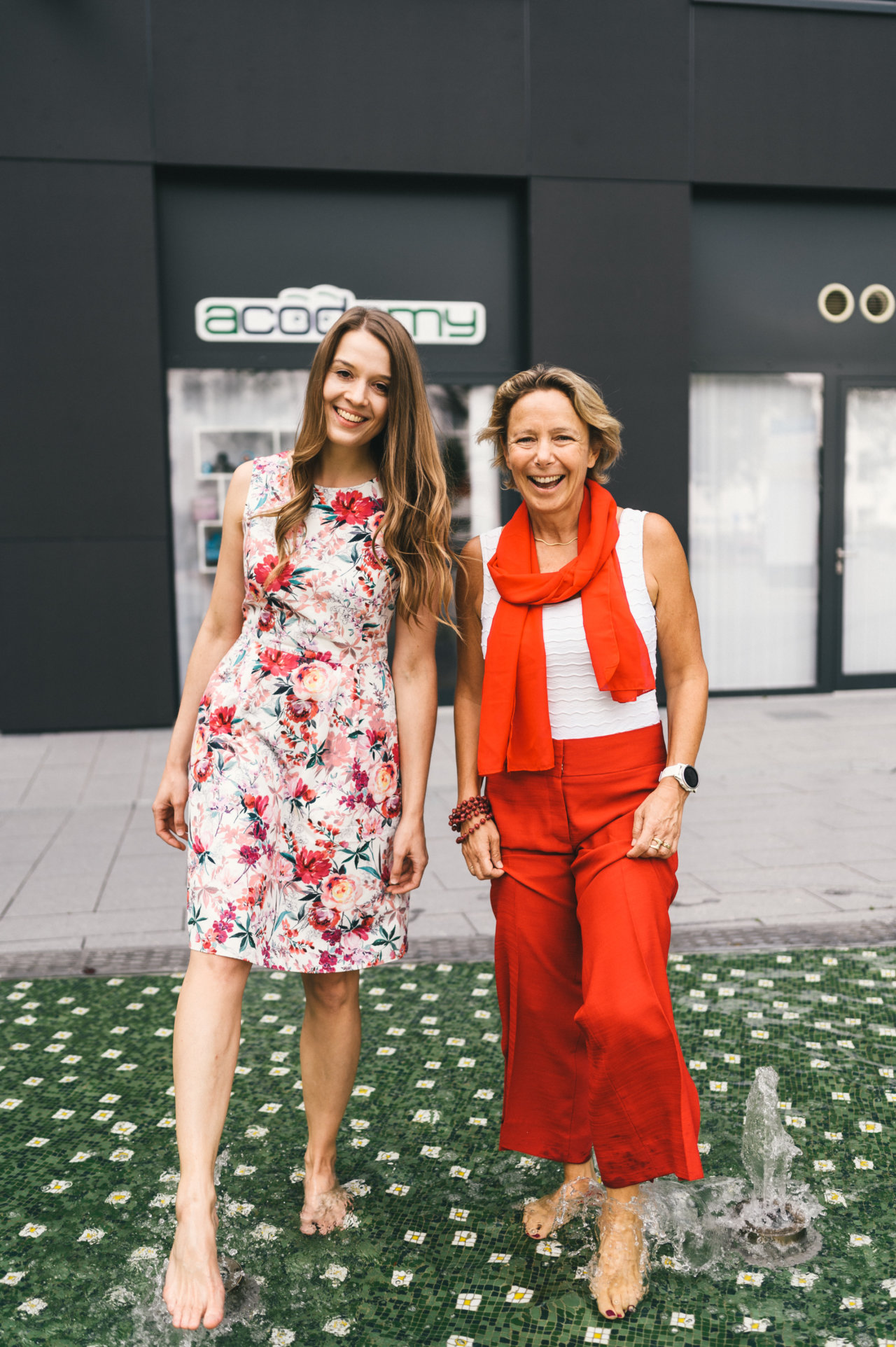 We asked Anna:
What does Cody21 actually mean?
Cody is a playful name that is intended to make computer science a low-threshold experience for children. And 21 stands for the 21st century. We teach children skills that are essential in the 21st century. The platform was programmed according to our ideas by a small Viennese company.
You also offer summer camps – do you have extra staff for that?
Yes, we do. There are five of us in the core team, and the number is growing. Because the more schools work with Cody21, the more support we have to provide. In the summer, the Acodemy team grows to up to 25 people. The summer camps are very well received by parents and children. Even with companies that want to offer this meaningful form of holiday activity for primary school children to their employees.
What does the future of Acodemy look like?
I have to admit that we are planning a future for cody21 outside of Austria. Simply because the mills here work too slowly and we see more opportunities in other European countries. Cody21 will be easy to synchronise for that, it's really just a question of time for us now.
More articles
The following articles might also interest you.